The quieter operation of belt drive openers, especially compared to the traditional chain drive models, makes them popular with homeowners. These devices are becoming more widely used for the operation of overhead garage doors. They practically have the same design as their traditional counterparts. The difference comes from the make of the drive component.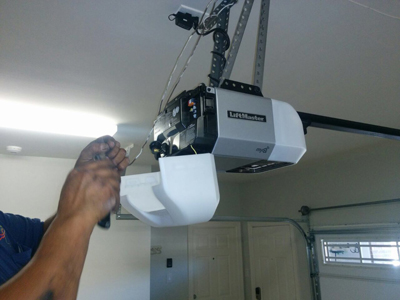 The motor unit is made up of the motor, circuit board and receiver plus a set of moving gears inside. It stands on a bracket right under the ceiling at a fixed distance from the wall above the door. A metal rail connects the unit and the wall. Inside it, there is the drive belt. It is connected to two moving gears with one being on each side of the rail. It also has a metal trolley attached to it. The trolley is connected to the door via a moving arm. When the opener is started with the use of the transmitter or the button mounted on the wall, the motor pushes the belt forward - to close the door, or pulls it back - to open the door. This is possible thanks to the movement of the trolley along the chain.
The special thing about this type of openers is the belt
It is made from a single piece of material. The different manufacturers use different kinds of materials. Polyurethane and fiberglass are popular options because of their strength and natural resistance to the damaging effects of the elements. Another widely used material is steel-reinforced rubber. Given that the material is flexible, the friction created between the drive belt and the moving gears and rail is much smaller. This allows belt drive openers to operate more quietly. There is no need for lubricating the belt.